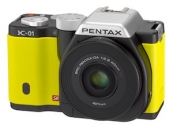 A week before the CP trade show in Yokahama, Pentax Ricoh Imaging announced its second camera without a reflex mirror or pentaprism: the 16-megapixel K-01 with a large APS-C size CMOS sensor (23.7×15.7mm) and a DSLR-style feature set. Built-in flash is standard, but there's also a hot shoe for external flash and a 3″ 920,000-dot LCD, though no viewfinder of any type nor an optional electronic viewfinder.
Unlike the Pentax Q and other Compact System Cameras, the K-01 retains an SLR mount. As the manufacturer notes, the venerable K-mount will accept "25 million lenses spanning decades." To be available in black, silver or yellow by March 2012, the K-01 will be packaged as body only ($800 MSRP) or in a kit with DA XS 40mm f/2.8 pancake lens ($900) billed as "the world's thinnest interchangeable lens."
The other significant aspect is the innovative styling of the K-01, described by various reviewers as "artsy," "retro-modern" and as "one part MoMA exhibit, one part toy camera and two parts Ikea." Forged by the eclectic Australian industrial designer Marc Newson, the K-01 with its aluminum alloy chassis with rubber finish and some retro-style controls, is certainly unique, but also surprisingly large. In this respect, it's diametrically opposed to the Pentax Q, which is the smallest of the interchangeable-lens digital cameras because of its tiny sensor and new Q mount.
Familiar Lens Mount
The decision to retain the oversized K-mount precluded the ability to reduce the flange depth, also called the back-focus distance. Consequently the body is quite deep, though not very tall. But it's certainly not particularly compact (12.1 x 7.9 x 5.9 cm w/h/d) in spite of the omission of a reflex mirror, pentaprism and viewfinder. In fact, the K-01 is comparable in size to some entry-level DSLRs, except for its smaller handgrip and it's quite light in weight (480g plus battery). While size may be a drawback to some, owners of Pentax systems will not need an entirely new series of lenses or an optional adapter. Just like the K-series DSLRs, it accepts all K-mount lenses, though with technical limitations when not using the current DA AF series.
Technology
This new Pentax camera employs an updated version of the sensor used by the K-5 DSLR and an improved processor, the PRIME M, which will provide benefits especially in video capture. As a mirrorless camera, it can provide only contrast-detection autofocus; DSLR-style phase-detection AF is not possible. The multi-mode AF system includes an 81-point sensor; the user can select any desired point or allow the camera to do so. A focus-peaking mode, clearly delineating areas that are sharp, will make manual focus particularly convenient and effective.
Feature Set
A review of the specs indicates great similarity to the K-5 DSLR, though with some new features originally developed for the Pentax Q. However, this is a full-time live-view camera. The body lacks an electronic viewfinder, and has no contact points that would allow for attaching an accessory EVF.
The major benefits over the K-5 are provided in video capture. These include a higher frame rate (30fps at1080p and 60fps at 720p) and the newer H.264/MPEG-4 AVC compression, which is more space-efficient than Motion JPEG compression. As well, greater user control is available in Movie mode, including the ability to record in Aperture Priority or Shutter Priority mode instead of P mode.
Significant aspects of the Pentax K-01 include a sensor-shift image stabilizer and dust-reduction system; a full range of manual, semi-automatic and fully automatic modes; multiple exposure and an improved HDR mode; many overrides; a fast 6fps burst mode; an ISO range from 100 to 25,600; numerous special effects in capture and as retouching options in Playback mode; and a built-in stereo mic.
The K-01 uses a lithium-ion battery to provide 500 shots per charge (per CIPA rating) and accepts SD/SDHC/SDXC cards and optional accessories including a wireless remote controller, flash unit and GPS receiver.
Analysis
Considering the size of the body and its use of DSLR lenses, it's questionable whether the K-01 can be considered as part of the Compact System Camera category, in spite of its mirrorless design. While it will probably be viewed as a niche product, this model certainly offers an alternative to competitors that require entirely new lenses, and should be particularly attractive to consumers who already own a Pentax system.
Rumours about the K-01 were rampant on the Internet for several weeks, and some sites had published accurate specifics about certain features including its K-mount. However, none were privy to product photos. Aside from the large body size, it's really the unique styling that sets this camera apart. Frankly, this will be a polarizing aspect. Debates have already started as to the pros and cons of Marc Newson's design. Particularly in yellow, it seems to be a bit dramatic for most tastes, but in black it's actually quite handsome. We'll be testing the new Pentax camera when it becomes available, since substance should be a more significant aspect than style.